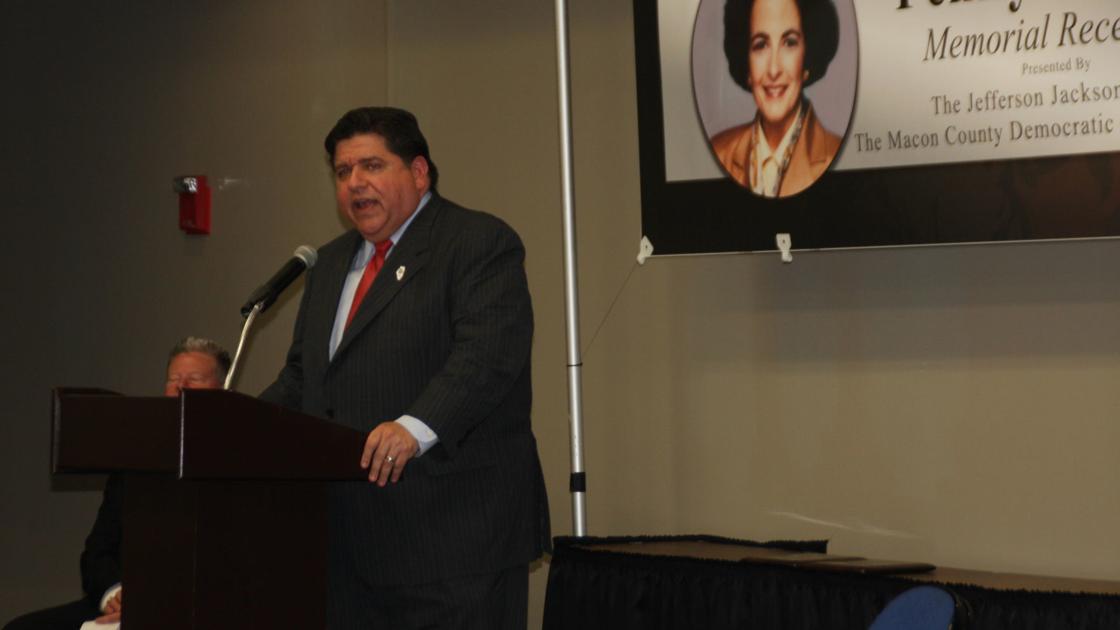 DECATUR — Hours after former President Barack Obama delivered a blistering speech in Urbana attacking the White House and Washington Republicans, prominent Illinois Democrats, including Chicago billionaire and gubernatorial candidate J.B. Pritzker and U.S. Sen. Dick Durbin, continued the attack at Richland Community College in Decatur on Friday night.
"(Obama) extolled the virtues of standing up for our democracy and challenging a president who is off the rails and a lot of Republicans who are silent in the face of that," Pritzker said at the seventh annual Penny Severns Memorial Reception.
The event, presented by the Jefferson Jackson Club and Macon County Democratic Central Committee, honors the legacy of Severns, a Decatur native who spent a dozen years as an Illinois state senator and in 1994 ran for lieutenant governor on the ticket with gubernatorial candidate Dawn Netsch. Known as a high-energy and dogged lawmaker, she died of breast cancer in 1998 at age 46.
At the event, two Decatur-area political figures were presented with the 2018 Penny Severns Integrity Award — former state Rep. Julie Curry and former Decatur Mayor Michael T. Carrigan, now president of the Illinois AFL-CIO.
Also attending were Betsy Dirsken Londrigan, the Springfield Democrat challenging incumbent U.S. Rep. Rodney Davis in the 13th Congressional district; state Treasurer Mike Frerichs; state Comptroller Susana Mendoza; and state Sen. Kwame Raoul, who is running for attorney general.
Pritzker's speech came a few hours after he joined Obama in a surprise appearance at Caffe Paradiso in Urbana, following Obama's speech at the University of Illinois. Obama in the speech gave his most forceful rebuke of President Donald Trump since leaving the White House. 
Subscribe to Daily Headlines
Get a daily summary of the news every morning
Durbin told the Decatur crowd, "I'll tell you what, I breathed a sigh of relief when I looked up and saw that man come up on the stage. He's reminder of what a president can be and what a president should be."
Obama, a former member of the Illinois General Assembly, endorsed Pritzker in the gubernatorial race earlier this year. The contest between two men with enormous personal fortunes has shattered fundraising records for any statewide contest in the country. So far, GOP Gov. Bruce Rauner has given $57 million to his own campaign, while Pritzker has given $126 million to his campaign and even more to down-ballot Democrats in Illinois.
Contact Tom Lisi at (217) 421-6949. Follow him on Twitter: @tommylisi
00-Pol RT,26-Delivered
Region: Bloomington,Feeds,News,City: Bloomington,Region: Central
via http://www.pantagraph.com – RSS Results in news* of type article https://ift.tt/2tNkCR3
September 8, 2018 at 07:02AM